Keynote Speakers
We are very pleased to have acquired the services of an excellent selection of keynote speakers for the symposium The speakers and the titles of their talks are shown below.
---
Dr. Iván Macía
Director of the Department of Digital Health and Biomedical Technologies, Vicomtech, Spain
Multi-modal data analysis and AI enabling personalized and precision medicine
More details ...
---
---
---
Dr. Iván Macía
Director of the Department of Digital Health and Biomedical Technologies, Vicomtech, Spain
Multi-modal data analysis and AI enabling personalized and precision medicine
Abstract:
In the context of an increased pressure of health systems, personalized and precision medicine have the promise to deliver better prevention and intervention strategies targeted to individuals. Approaches have evolved from a personalization based on clinical variables and individual preferences to precision diagnostics and targeted therapies based on the analysis of individual genes or phenotypic traits. At the same time, there is a revolution in digital diagnostic technologies, improving existing techniques, e.g. medical imaging or genomics, or novel techniques providing deeper insights for better disease diagnosis and prognosis. The amount of information generated is huge and ever growing, however, much of it is barely exploited. Novel artificial intelligence technologies, with emphasis on deep learning, are capable of processing and integrating such vast amounts of multi-modality information, either obtained in research studies or from clinical practice, promising a great impact in novel approaches to disease prevention, diagnosis, prognosis and intervention. In this talk, and overview and examples of different approaches and their advantages will be provided in several areas of disease and clinical processes.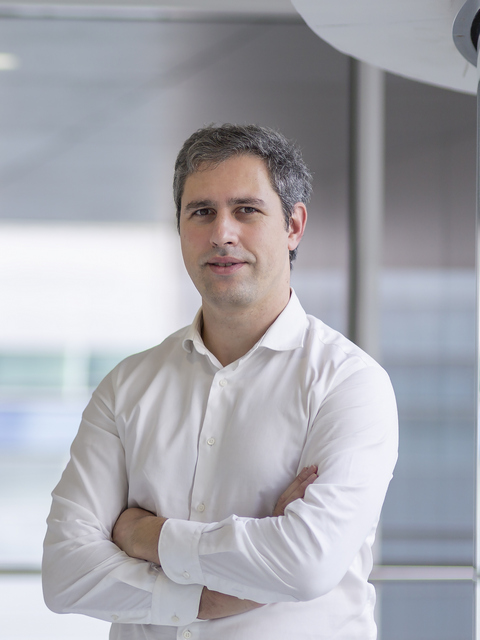 Biography:
Dr Macía holds an Industrial Engineering degree (2002) and an Industrial Automation and Electronics Engineering degree (2003) from the University of Navarra (Spain), and a PhD in Computer Science and Artificial Intelligence from the University of the Basque Country UPV-EHU (2012) with a Doctoral thesis in the field of Medical Image Analysis with Artificial Intelligence, where he specialized in vascular image analysis.
He has developed most of his research career in Vicomtech applied research centre (San Sebastian, Spain) where he started in 2003 working in digital technologies for the health domain. Since 2014, he holds the position of Director of the Digital Health and Biomedical Technologies Department, leading a group of 35 researchers in 5 research areas: Digital Health, Predictive and Precision Medicine, Digital Biomedical Devices, Image Analysis and Deep Learning and Big Data for Healthcare. At present time the Department takes part in 7 EU funded projects by H2020 and Horizon Europe.
He also leads the Digital Health research group at the Biogipuzkoa Health Research Institute, a multidisciplinary group of clinicians and engineers, and is part of the UPV-EHU Computational Intelligence Group.
He has 20 years of experience in R&I in the development of computer-aided diagnostic systems, Data Analytics and Artificial Intelligence in the biomedical sector, and responsible for several medical image analysis products on the market, and received the European Quality Innovation of the Year Award (2015) in Social and Healthcare Sector by the Finnish Quality Association. He has been responsible for multiple R&I projects and in collaboration with companies, technology centres, academia, health and scientific institutions, as well as responsible for the development of various software libraries and solutions currently in use as assets of Vicomtech. He is also the author of more than 50 publications in impact journals and congresses in the mentioned areas.
He acted as general Project Coordinator of DESIREE Project Decision Support and Information Management System for Breast Cancer-, funded by H2020 (Grant Agreement nº 690238). At present time he is Principal Investigator from Vicomtech in the LUCIA Project - Understanding Lung Cancer related risk factors and their Impact- funded by Horizon Europe in the Mission Cancer (Grant Agreement nº 101096473) where he leads the definition of the LUCIA software ecosystem, data analytics and application development and the Risk factors AI modelling activities.
---